Chicken Broccoli Casserole
Ingredients:
2 - Chicken breast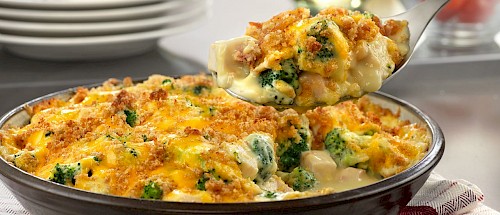 Sliced Broccoli Florets - 2 cups
Cream of chicken soup
1 - cup shredded cheese
1 -Tablespoon mayonnaise
1/2 cup bread crumbs
Cooking Directions:
Boil chicken or you can use a rotisserie chicken, shred chicken and layer on casserole dish (8 x 8 dish)
Steam 2 cups of broccoli for about 7 minutes. Layer broccoli on top of shredded chicken in casserole dish.
Open can of Cream of Chicken Soup and warm on stove, add 3/4 can of water and 1 tablespoon of mayonnaise. Stir together and pour over broccoli and chicken, spread shredded cheese on top of mixture, top with bread crumbs.
Bake at 350 for 30 minutes.
Thank you Church Brothers - Recipe Source: Danny Reyes