Blackberry Cabernet Roast Eye of Round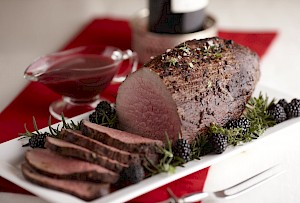 Roast with marinade
5 lbs. eye of round beef roast
1 Package Driscoll's Blackberries, plus more for garnish
2 Cups Cabernet Sauvignon
4 Cloves garlic, chopped
1 Tbsp. chopped fresh rosemary leaves, plus more for garnish
1 Tbsp. thyme leaves, plus more for garnish
2 Teaspoons chopped fresh sage leaves
2 Teaspoons salt
1/2 Tsp. ground black pepper
2 Teaspoons cracked pepper melange
Blackberry Cabernet Au Jus
1 Package Driscoll's Blackberries (6 ounces or about 1 1/3 cups)
2 Cups beef broth
2 Tablespoons cornstarch
1/3 Cup Cabernet Sauvignon
Salt and ground black pepper, to taste
Roast with marinade
Heat oven to 425°F.

Pierce all sides of meat using a meat fork every 1 inch and place in a large resealable plastic bag.

Purée blackberries in a blender or food processor. Press through a sieve to remove seeds. Discard solids. Combine blackberry purée, Cabernet, garlic, rosemary, thyme, sage, salt and black pepper in a small bowl. Pour mixture over roast and seal bag. Refrigerate 4 hours or overnight, turning roast occasionally.

Drain meat from marinade. Sprinkle cracked pepper mélange evenly over meat and place in a large roasting pan. Pour 1 cup marinade from plastic bag into roasting pan. Discard remaining marinade. Roast 15 minutes, reduce oven to 350°F Continue to roast 50 minutes or until meat thermometer reads 145°F for medium rare. Remove meat from roasting pan. Let stand 5 minutes before slicing thinly across the grain.
Blackberry Cabernet Au Jus
Purée 1/2 cup blackberries in a blender or food processor. Press through a sieve to remove seeds. Discard solids. Using a wooden spoon, loosen and dissolve any browned bits in roasting pan. Stir in blackberry puree, beef broth, cornstarch and Cabernet. Place roasting pan over medium heat. Bring to a boil stirring constantly. Cook 1 minute or until slightly thickened. Stir in remaining blackberries. Season with salt & pepper
Nutrition Facts:
Calories 372
Total fat: 8.17 g
Saturated fat: 2.77 g
Cholesterol: 102.95 mg
Sodium: 696 mg
Total Carbohydrates:10.02 g
Dietary Fiber: 3.58 g
Protein: 52.49 g