Ingredients
43 oz. salmon filets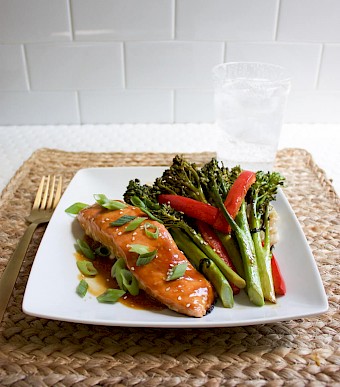 2 pkgs. Mann's broccolini
2 cups brown rice, pre-cooked
1 red bell pepper sliced into strips
1 tbsp. toasted sesame oil
2 green onions, slice thinly
Soy Sesame Glaze
1/2 cup soy sauce
1/4 cup rice wine vinegar
1/4 cup honey
1 tbsp fresh ginger, minced
1 clove garlic, minced
2 tbsp toasted sesame oil
2 tsp sesame seeds
1 tsp onion powder
1 tbsp corn starch
Instructions
Preheat oven to 450 F degrees
Lightly oil a sheet pan. On one section of the pan, place the salmon. On another, place the pre-cooked rice.
Toss Broccolini with red bell pepper and 1 tbsp of toasted sesame seed oil. Place on sheet pan. Put sheet pan in the oven for 10 minutes.
While the sheet pan is in the oven, prepare glaze by combining all ingredients and simmering over medium low heat until it begins to thicken. Stir frequently.
Remove sheet pan from oven after 10 minutes and brush Soy Sesame Glaze over salmon and Broccolini. Stir rice. Return to oven for another 10 minutes.
Plate each dish and garnish with green onion.
Thank you Mann Packing!