BUILDING FOR THE FUTURE is an invitation to envision a more sustainable, flexible, and healthy future by rethinking employee benefits. Join us in discovering new opportunities for growth and development and reimagining the future of agriculture.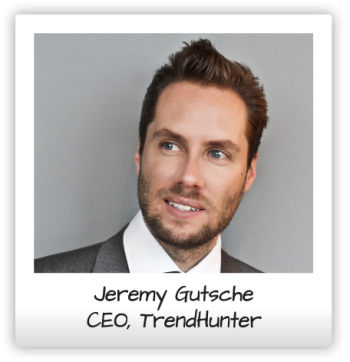 Jeremy Gutsche is "an intellectual can of Red Bull" (Association Week), a New York Times bestseller and a management consultant to brands, billionaires, and CEOs. He's also the founder of Trendhunter.com: the world's #1 trend-spotting site. Gutsche has grown Trendhunter into a trusted showcase for "what's next" in marketing, design, technology and other categories.
With contagious enthusiasm, he shows us how to use methodical innovation to generate ideas and kickstart creativity in times of rapid change.
With over 25 years of experience in clinical practice, biomedical research and healthcare innovation, Daniel Kraft has served as faculty chair for Medicine at Singularity University since its inception in 2008 and is the founder and chair of Exponential Medicine, a program that explores convergent, rapidly developing technologies and their potential in biomedicine and healthcare.
He is heavily involved in digital health, founded Digital.Health, and is on the board of Healthy.io and advises several Fortune-50 and digital health-related startups. Daniel recently founded IntelliMedicine, focused on personalized, data-driven, precision medicine.
WomenAg
Networking Luncheon
SESSION 1:
Couch Chat - Advocacy
SESSION 2:
The Future of Health & Medicine
Member Connection
& 17 Strong Event
SESSION 3:
This is Ag! Live Broadcast
2365 Kalakaua Ave, Honolulu, HI 96815
Home of the 2022 Annual Conference, the Moana Surfrider is an unbeatable beachfront location in the center of Waikiki. Just steps away from the immaculate shores of legendary Waikiki Beach and within walking distance of Honolulu's most beloved shopping, dining and entertainment.
Thursday, August 25 | 6:00 p.m. - 9:00 p.m.
Help us raise $10,000
Join us for a special evening of celebration, networking and community to help raise proceeds for 17 Strong, a non-profit foundation whose mission is to grant victory trips to young adults battling life-threatening illnesses. Funds from this event directly help recipients celebrate victory over disease with a loved one, fulfill a lifelong dream and begin a new chapter.
Find a level or package that benefits you and showcase your business to the entire UnitedAg membership. For questions, contact our Membership team at membership@unitedag.org or call 800.223.4590.