UnitedAg Holds Fourth Annual Member Health Benefits Forums for Agribusiness Employers throughout the Central Valley and Coast of California
FOR IMMEDIATE RELEASE:
UnitedAg Holds Fourth Annual Member Health Benefits Forums for Agribusiness
Employers throughout the Central Valley and Coast of California
Creating a health plan from the patient outwards, UnitedAg shows its commitment to providing member centric, relationship based quality health care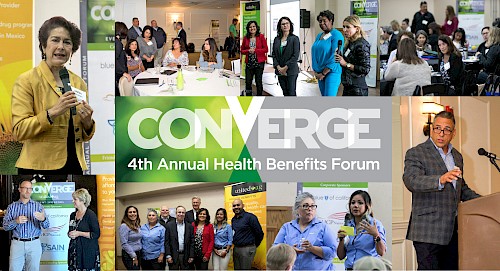 IRVINE, Calif., Oct. 4, 2017 — Converge 2017, UnitedAg's 4th Annual Health Benefits Forums were held in Fresno, Santa Maria, and Salinas, September 26 – 28. The program builds upon UnitedAg's ethos by showcasing the nontraditional way UnitedAg creates the health plan from the patient outwards. The theme of 'Converge' emphasized UnitedAg's commitment to focusing on the members and creating a culture of innovation through collaboration.
"We are reimagining healthcare as something that is centered around the patient and their personal experiences," said Christopher McDonald, Director of Product Development and Underwriting. "We are building relationships with members and health providers that share the same vision as us, such as those at their regional clinics including our Mexico Panel and Teladoc."
Forum sessions included; the new Teladoc Challenge, the first peek at the 2017 Health Benefits Benchmark Report, information about the new AgSafe Partnership and opportunities to learn about the UnitedAg Health and Wellness Clinic in the different regions. All the regional events were extremely well-attended by UnitedAg Members and guests.
Assembly member Anna Caballero attended the event and talked about why the event was important. "People [of the agricultural industry] …work really hard not only to produce the food we eat, but also to help us maintain our rural agricultural economy," said Assembly member Anna Caballero, "The ability to cover people and make sure they can access medical help when they need it is really, really important."
Speakers at the event included UnitedAg's Senior Management and Emerging Leaders as well as, Tom Amaro, President, Pacific Ag Consulting, Debbie Adam, CFO & Owner of Innovative Produce; Daniel Salas, Chairman of the Board of Directors, AgSafe, Alethea Leandro-Farr, Director at Large & Chairman Emeritus, AgSafe, Ernesto Alvero, Chief Executive Officer, Pinnacle Healthcare, Tiffany DiTullio, Chief Administrative Officer, Salinas Valley Memorial Healthcare System, and Alexis Davenport, On-Site Development Specialist, Elite Corporate Medical Services. Kirti Mutatkar, President & CEO of UnitedAg also spoke at the event.
"All of us, members, patients, and health providers are all on the same team," said Kirti Mutatkar, President & CEO of UnitedAg. "We are all doing something remarkable, we are replacing the traditional impersonal healthcare system with a member centric, relationship based, and trust-first approach to providing quality care."
About UnitedAg
UnitedAg is a member-owned agricultural trade association dedicated to providing innovative solutions for a strong and healthy agricultural industry. UnitedAg partners with more than 650 affiliated member organizations dedicated to providing innovative programs for California and Arizona's dynamic agricultural industry. UnitedAg provides health benefit programs, and advocates for agriculture with state, regional and local elected official and assist our members with regulatory compliance. UnitedAg's mission is to bring innovative solutions to agribusiness by meeting members' employee benefits needs, advocating for ag with lawmakers, and helping members comply with regulations. Based in Irvine, Calif., UnitedAg has offices in Oxnard, Corona, Salinas, Fresno and Santa Maria. For more information, visit www.unitedag.org or call (800) 223-4590.
# # #
---