UnitedAg Launches Yearlong WomenAg Leadership Academy
FOR IMMEDIATE RELEASE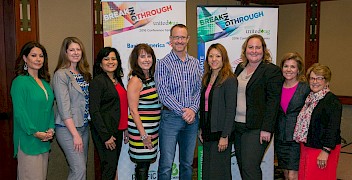 IRVINE, Calif., Nov 11, 2016 – UnitedAg, a member-owned agricultural trade association representing more than 600 organizations in California and Arizona, will be providing a yearlong leadership development and training academy for women in the agricultural community beginning in January 2017. This exclusive WomenAg Leadership Academy is open to women from UnitedAg member organizations as well as to non-members who will be selected based on their skills, interests, passion and leadership potential, as determined through their application. The application deadline is Wednesday, Nov. 30.
The WomenAg Leadership Academy will include five intensive, daylong or two-day workshops held in various California locations, and led by agricultural industry leaders and UnitedAg staff members.
The workshop dates, locations and topics are:
• January 11-12, Santa Cruz – Leadership & Self-Assessment – Understanding Your Leadership Style
• March 17, Napa – Understanding the Legislative Process – Your Voice Matter in the Public Policy Debate!
• May 17-18, Sacramento – Legislative Day at the Capital
• Sept. 20-21, Monterey – Telling Your Story
• Dec. 5, Pismo Beach – The California State Budget Process
"This inaugural WomenAg Leadership Academy represents an exceptional opportunity for a select group of women in the ag community to network with and learn from highly-experienced and -accomplished agricultural community leaders, both women and men, who will help educate and mentor them as they develop their leadership skills and expertise, and define their own leadership paths," said Kirti Mutatkar, President and CEO of UnitedAg.
The academy training and coursework will be provided through California Women Lead, the largest non-partisan association of women leaders. In addition to the intensive in-person workshops, participants will have engaging homework assignments geared toward helping them apply their newly developed leadership skills to their daily professional lives.
For those admitted to the academy, the participation fee is $750 for women from UnitedAg member organizations and $1,000 for non-members. The fee excludes travel and accommodations, which will be the participants' responsibility.
To apply for the WomenAg Leadership Academy, go to https://www.surveymonkey.com/r/VXSVCWH and submit the application before the Nov. 30, 2016 deadline.
About UnitedAg
Founded in 1980, UnitedAg is a member-owned agricultural trade association dedicated to providing innovative solutions for a strong and healthy agricultural industry. UnitedAg represents more than 600 agriculture-affiliated member organizations, including agricultural companies (growers, shippers, coolers, processors, dairy and livestock producers, and supporting businesses); associates; cooperatives; and partner agricultural associations. UnitedAg helps its members meet their employee benefits needs, promotes their interests with lawmakers, and helps them comply with legislation and regulation. Based in Irvine, Calif., UnitedAg has offices in Oxnard, Corona, Salinas, Fresno and Santa Maria.
For more information, visit www.unitedag.org or call (800) 223-4590.
# # #
---