UnitedAg Awards Scholarships totaling $3,500.00 to Two Students in Orange County
FOR IMMEDIATE RELEASE
May 18, 2018
Two students in Orange County have received scholarship awards totaling $3,500.00.
UnitedAg awarded the scholarships after reviewing 86 submitted applications. Applicants submitted in addition to detailed information, an essay focused on the top issues impacting agriculture and new challenges and opportunities that farmers face every day.
UnitedAg is proud to announce the following winners:
Wei Kuo; UnitedAg; Irvine.
Shae Scarr; The Nunes Company; Salinas.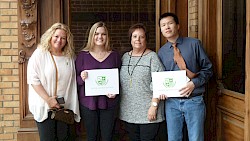 About UnitedAg
UnitedAg is a multi-commodity member-owned agricultural trade association dedicated to providing innovative solutions for a strong and healthy agricultural industry. Our over 800 agriculture affiliated member organizations network and share creative ways to transform our ever changing industry. UnitedAg strives to bring innovative solutions to agribusiness by meeting our member's employee benefit needs, advocating for ag with lawmakers and helping members comply with regulations.
For further information, contact Maribel Ochoa at 800.223.4590
marketing@unitedag.org
##
---