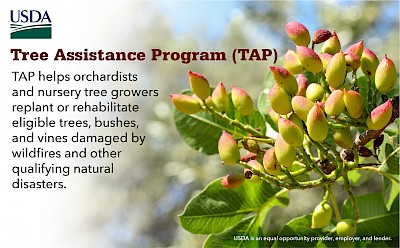 The USDA California Farm Service Agency State Committee has approved Pistachio Bushy Top Syndrome under the Tree Assistance Program (TAP). Pistachio tree producers who incurred pistachio tree losses due to Pistachio Bushy Top Syndrome (PBTS) are now able to sign-up under the Tree Assistance Program. The signup period for PBTS began October 15, 2018. For more information please send your producers to their nearest USDA Service Center. To find your local FSA office, visit http://offices.usda.gov.
The California State Committee approved PBTS as an eligible disease under TAP. The Acting Deputy Administrator of Farm Programs (DAFP) has subsequently authorized the California State Committee to consider and act on late filed applications for producers affected by PBTS under TAP.
To be eligible, the pistachio orchardist must have suffered a mortality loss due to PBTS that exceeds 15 percent per stand, adjusted for normal mortality.