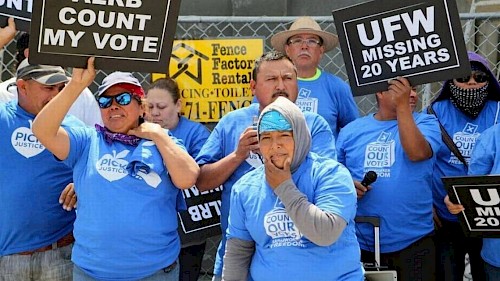 After five years of waiting, workers who voted to get rid of the United Farm Workers union from Gerawan Farming may finally find out the results of their disputed election.
The state Supreme Court on Wednesday denied a request from the state Agricultural Labor Relations Board to review a lower court's ruling that found fault with the ALRB's decision to impound the ballots. The election took place in 2013 and the results have been mired in legal challenges and charges of unfair labor practices.
Dan Gerawan, co-owner of the family run company that's one of the largest tree fruit farmers in Fresno County, praised the decision.
"It is a good day for democracy, and a long overdue vindication of the right to vote, and to have those votes counted," Gerawan said. "We hope that the ALRB will follow the court's direction and immediately count the ballots."
At issue has been the role the ALRB has played in overseeing the election and investigating multiple charges of unfair labor practices.
At the time, the ALRB accused Gerawan of trying to manipulate the outcome of the election. An administrative hearing was conducted and the board dismissed the decertification election, saying the vote was not valid.
In June, the 5th District Court of Appeal in Fresno said in a 138-page decision that the ALRB erred in several of its findings of unfair labor practices.
"Having reviewed the entire record, we conclude that several of the unfair labor practice findings relied on by the Board were unsupported by the record as a whole," the appellate justices wrote. "This alone would warrant returning the case to the Board to reconsider its remedy."
They went on to say that the ALRB was so focused on punishing the employer that it lost sight of the "value of protecting the farmworkers' right to choose, which was and is a fundamental part of the Board's mission."
Gerawan workers viewed the court's denial to review the case as a clear victory.
"To us, this sends a strong message that you must let the workers see the results of their ballots," said Jesse Rojas, spokesman for Pick Justice, a group organized to represent the workers. "We strongly believe that this literally means the ALRB will have to open the ballots and count them. We are very excited."
An official of the United Farm Workers, which was a party of interest in the case, said the union is troubled by the decision.
"The ALRB still has to consider whether a free and fair choice was prevented by all the illegal conduct by the company documented in the 82-page decision by the full ALRB board in 2016 and an earlier 192-page decision by the state administrative judge," said UFW spokesman Marc Grossman. " So the issue is still in doubt."

Read more here: https://www.fresnobee.com/news/business/agriculture/article218296805.html#storylink=cpy