Farm Journal Webinar: Innovation in Agriculture Healthcare & Benefits Management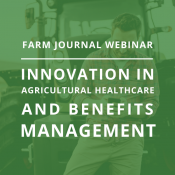 There's no better time than now to get firsthand knowledge from healthcare benefits experts and agriculture industry professionals who will share their experience in developing and implementing innovative healthcare solutions specific to the ag industry. Talking about real-world, current-event experiences, giving honest assessments and discussing strategies for the future will set up an engaging and open discussion.
Some important takeaways will include:
Examples of unique and innovative healthcare programs specific to the ag industry
Tactics to make those programs cost effective for both employers and their employees
The impact COVID-19 is still having on ag industry employees' well-being
Why offering benefits, such as a health and wellness center, are important
This insightful roundtable will be moderated by Roland Fumasi, Ph.D., senior vice president/North American head of Rabobank's RaboResearch Food and Agribusiness, with industry experts Kirti Mutatkar, CEO of UnitedAg; A.J. Cisney, general manager of Rancho Guadalupe, LLC and David Nikssarian, president of Nikssarian Insurance Services, all joining in to provide their unique perspectives.
Join the FREE webinar. Register today!
Event Details
Starts On
Thursday, February 11, 2021 1:00 pm
Late Registration Deadline
Thursday, February 11, 2021 1:00 pm