OPS Forum: UABT COVID-19 Claims and California Workers' Compensation - Rebuttable Presumptions and 2021 Reporting Requirements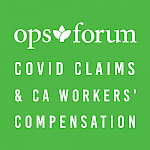 During this Forum, our Legal team will discuss the impact of recent legislation, SB 1159. This legislation created a rebuttable presumption that the COVID-19 illness is work-related and should be paid by the workers' compensation carrier. They will also provide an overview of how COVID-19 claims are handled by UABT.
AB 685 will also be reviewed to provide an explanation of the new employer-required notices to employees regarding COVID-19 in the workplace.
Event Details
Starts On
Thursday, November 19, 2020 10:00 am
Late Registration Deadline
Thursday, November 19, 2020 10:15 am