OPS Forum: New Pre-Employment Services & COVID-19 Vaccine Deployment Timeline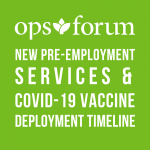 During this forum, we will be presenting a new service provided by our partner Elite Corporate Wellness and providing a general overview of UnitedAg's COVID-19 vaccination deployment timeline. The new pre-employment physical examination services* will help employers evaluate an applicant's ability to perform their job duties without jeopardizing the safety of themselves, coworkers, or others.
Pre-employment screenings are a great resource for baseline information on current illnesses or injuries which may require worksite modification. Specifically, it can give you information on physical safety and health promotion at your organization, along with any health-related information specific to your employees' duties.
*Services are not performed by UnitedAg or United Agricultural Benefit Trust. Services are rendered by Elite Corporate Wellness at the UnitedAg Health & Wellness Centers.
Event Details
Starts On
Thursday, January 21, 2021 10:00 am
Late Registration Deadline
Thursday, January 21, 2021 10:00 am