HealthChats: Breast Cancer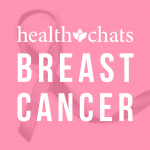 Breast cancer is the second leading cause of death among American women, and the American Cancer Society estimates that one in eight will develop it in their lifetime. Regular screenings and early detection are essential in successful cancer treatment.
Join Dr. Rosemary Ku for a candid conversation about this important issue and get more information about the necessary screenings to stay on top of your health.
Event Details
Starts On
Friday, October 22, 2021 10:00 am
Late Registration Deadline
Friday, October 22, 2021 10:00 am