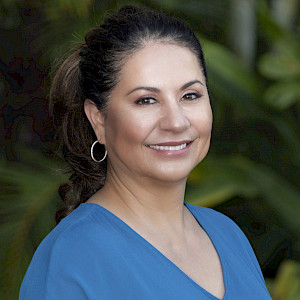 Veronica Urzua-Alvero, Chair
Vice President of Human Resources Operations, Church Brothers Farms
A native of Salinas Valley, Veronica Urzua-Alvero is a passionate leader who takes pride in fostering the next generation of ag leaders and making a positive impact in the industry. With more than 25 years of combined human resources, insurance, risk management, and safety experience, Urzua-Alvero is responsible for establishing the HR structure for Church Brothers Farms. She ensures organizational effectiveness from operations to workforce planning to day-to-day management of all corporate functions while reducing risk and limiting exposure of all affiliated companies in California, Arizona, and Mexico.
Agricultural roots run deep in the Urzua-Alvero family. Her husband, Ernesto Alvero, has served the farming community for more than 38 years, providing Emergency Medicine, Worker's Compensation, and Occupational Medicine while pursuing their mutual goal of improving the health and safety of farmworkers and their families. Outside of work, Urzua-Alvero enjoys spending time with her husband and their children, Omar, A.J., Kathy, Ariel, Dominick, Cristian, Natalie, and Brittany. Her family is her strength, support, foundation, and greatest blessing.
Urzua-Alvero holds a bachelor's in business and finance, completed extensive graduate work, holds several commercial licenses with the Department of Insurance, and is a licensed Broker with the Department of Real Estate. She supports industry associations and local non-profits in Monterey, San Benito, Imperial, and Yuma counties; previously served in Dorothy's Place and the City of Salinas Planning Commission, both worthy causes. Urzua-Alvero is a graduate of UnitedAg' s 2017 WomenAg Leadership Academy and is the first woman to be appointed Chair of the Board of Directors.